Guitarist and Composer Susan McDonald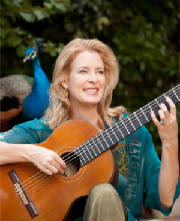 Susan McDonald has delighted audiences the world over- from community concerts to Carnegie Hall. Her audiences have ranged from Holocaust survivors in a Viennese nursing home to the President of the United States, and her music has been enthusiastically received in concert halls, universities, festivals, elementary schools, hospitals and tiny villages in the Amazon.
A protege of the legendary guitar master Pepe Romero, Susan fell in love with the guitar when she was four and began playing when she was six. Her studies took her from the University of St. Thomas in Houston, Texas to the Mozarteum in Salzburg, Austria and finally to a residency at the Banff Centre for the Arts in the Canadian Rockies. Susan's many recordings and live performances have been heard on radio and television broadcasts worldwide.
She is on the touring rosters of Texas Commission on the Arts, Mid-America Arts Alliance and Young Audiences of Houston, and has created classical guitar programs for the YES Academies in Iraq and Lebanon.